The Land Rover became a respected off road brand well before the Hummer or those Sport Utility Vehicles came on to the market. It is seen by many as one of the most popular, dependable and remarkably flexible all-terrain vehicles.
What began in 1948 as a British variation of the WW II classic Jeep has progressed perfectly into a fully-functional on and off road motor vehicle that can handle treacherous terrain. It created a global fan base, initially within the military services that quickly expanded to farmers, expeditioners in Africa, outback Australia as well as the tropical rain forests of Brazil.
Useful Land Rover Accessories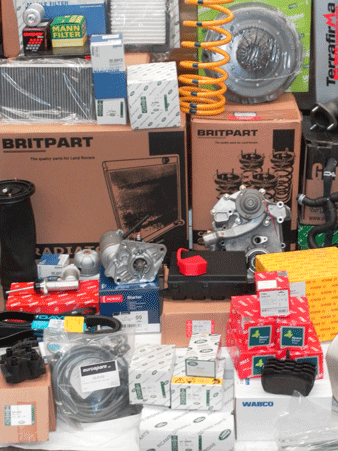 A Land Rover could be the last word in terms of 4-wheel driving. There are many useful accessories and equipment that can increase the appeal of your Landy.
Land Rover accessories are for sale at almost any auto accessories store and aren't difficult to get due to the popularity of Landies. However, you may get better prices from us because we do not have the overheads of auto-stores. And the purchase comes with the added advantage that you can benefit from our experience in selecting and installing Land Rover accessories and Land Rover spare parts.
Land Rover accessories are mostly made by 3rd-party companies. The accessories are usually off-roading related. The proven four-wheel drive design allows the motor vehicle to navigate virtually any type of tricky surfaces, and it is the primary preference for campers and off-roaders. The motor vehicles are sturdy, and they will withstand the strains associated with outback journeys as well as general off-roading. The Defender, Discovery and Freelander brands are common. However, the most well known brand is the Range Rover. Approximately, 200,000 Landies are purchased each year across the world, which provides a consistent need for Land Rover accessories.
Side steps are popular add-on accessories with good reason. This motor vehicle offers substantial ground clearance. Ground clearance is the space from the ground to the base of the vehicle. It has to be elevated in off-roaders such as these. However, this Land Rover accessory is useful for city driving to help people get in and out of the motor vehicle. It is also useful as protection for the Land Rover underside when you are off-roading.
If you are off-roading, it's likely that you are camping out and need to lug lots of gear. Thus carrier frames and roof racks are on the market in a variety of designs, occasionally custom-made to carry particular things like tents.
Additionally, you will find fog lights as well as light protections designed for those off road night driving situations. You will also find snorkels for driving through dust and water. Land Rover accessories are not as much about making your vehicle appear attractive but more about functionality. As a result do not expect to find stuff like rear spoilers and cosmetic accessories. They are not really appropriate for the nature of the Land Rover.
Buying Land Rover Accessories From Us
Roving Mechanical can supply and fit a full range of Land Rover accessories, but the four big advantages of buying your Land Rover accessories from us are:
We can provide advice as to the best option for your type of vehicle and driving.
You benefit from our low overheads so your costs will be lower.
We can supply the accessories anywhere  in Australia – typically next day.
We can either install them for you or provide you with tips and guidance for installing your Land Rover accessories.
Read more about our Land Rover accessories and Land Rover spare parts service.